I just linked up with Amanda over at
Teaching Madness
for her
2013 Resolution Solution Linky Party
. I've never been much of a new year's resolution kind of girl, but I usually look at the start of a new year to have a fresh start and reflect back on the highs and lows of the previous year.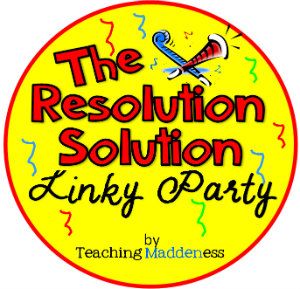 My high, in relation to school, has definitely been learning about and implementing whole brain teaching strategies in my classroom. I have become a completely different teacher this year, and am SO excited about it. WBT has allowed me to focus my energies in exactly the right places, and the rewards that I have gotten from my students have been tremendous. So, I guess you could say, that a resolution for the new year is to continue learning about wbt and spreading the word to others as much as possible.
My low, in relation to school, has been that I have a hard time saying no. Currently I am the science department leader, PBIS internal coach, and union president, all in addition to being a sixth-grade teacher and mother of three. I'm exhausted. I find myself saying "yes" to things because I don't want other people to be burdened. So, another resolution for me this year is to either say "no" more or delegate more.
In my personal life my high and low are my children. They are the joy that makes me smile bigger than I ever thought possible. I find myself often preoccupied with other things (like school) and I want to try and focus on them in the evenings. My resolution is to not be on my computer or iPad or phone until they are in bed. I can work on school work after that if needed. That's always my goal, but I haven't been sticking to it.
So that's it. Hopefully writing them down will help me to keep these things in the forefront of my mind in 2013.
Happy New Year!